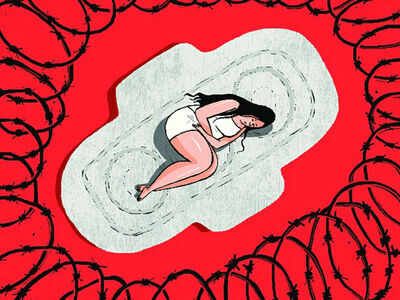 Copyright @timesofindia
This article is written by Miss Shivalika and Nehal Rathi, both are pursuing
B.B.A L.L.B from New Law College, Pune.
INTRODUCTION:
A cyclical discharging of blood, secretions, and tissue debris from the uterus that recurs in nonpregnant breeding-age primate females at approximately monthly intervals and is considered to represent a readjustment of the uterus to the nonpregnant state following proliferative changes accompanying the preceding ovulation.
Menstruation prepares a woman's body for a potential pregnancy and leads to several changes in their bodies which are further triggered by hormones. This cycle comes to an end when the woman reaches the last stage of her fertility known as menopause.
In India, the disgrace around the monthly cycle runs profound and deep, enhanced by social and religious practices. When a woman or a girl is on their period, ladies are frequently considered 'unclean' and are avoided from social and religious gatherings and occasions. Such restrictions about periods present in numerous social orders sway women and girls' enthusiastic state, attitude and way of life and above all, wellbeing and mental health. When a girl child is born, she is not born with that privilege to choose whether she wants menstruation in her life or not, it's a biological thing that we cannot control. Then why is this still taboo? There have been numerous debates about the same, in which men claimed menstruation leave is slightly gender-biased in its nature as in this way women might get more paid leaves than them which totally, as a consequence, demolishes the idea of equality.
HEALTH CONSEQUENCES:
"Menstruation is not a problem, poor menstrual hygiene is."
Problems related to menstruation are not only faced by female workers but also by girls studying in schools and colleges. There are no proper facilities or infrastructure —including waste removal systems, water, sanitizer, or soaps for washing, protected or private washrooms — these are barely accessible or available. Female workers and young girls are compelled to miss school and work during their menses only because of the pre-existing taboo related to it and the non-availability of accessible toilets. Girls living in rural areas have no availability of sanitary napkins or tampons, etc. They use ashes, leaves, clothes like socks, paper, mud, animal skin, etc. to aid absorption which is not only unhygienic but also has detrimental effects on their bodies leading to serious illnesses. Various kinds of practices lead to several health intricacies. For example: Not taking bath during periods might lead to infection in the reproductive tract or urinal tract. Re-using the same old cloth again and again during periods leads to the birth of unwanted germs and bacteria.
There are several types of menstrual disorder and studies have shown that a large portion of females of reproductive age suffers from menstruation-related health issues which include dysmenorrhea, premenstrual traits, menorrhagia, polymenorrhea, irregular vaginal bleeding, amenorrhea, oligomenorrhoea, and abnormal menstruation. Menstruation not only imposes an economic burden but also causes absenteeism and poor academic performance amongst school-going girls.
MENSTRUATION- A HUMAN RIGHT ISSUE:
Talking about menses anywhere is still a concept to be hushed about. Evidentially, it is barely discussed in families or schools or even workplaces for that matter. Studies reveal that one out of three girls came to know about menses for the first time when they have their menses for the first time. There are different beliefs in Indian culture where was to women are prohibited from participating in server day to day activities during their menses for instance: not allowing girls or ladies to go to the kitchen, fields where crops are grown, worship places, and are also restricted from going out from their houses after 6 pm, etc. This excludes women and girls from many aspects of social and cultural life which have harmful repercussions concerning to the emotional state, mental state, lifestyle, and most importantly health. And it also appears to be a hurdle for the advancement of knowledge on this particular topic. Other practices like menstruation-related teasing, exclusion, and shame undermine the dignity of women.
It is also considered a human rights issue because it hampers the true nature of fundamental rights which are guaranteed to us through our constitution. To name a few of them:
Right to work: Helpless admittance to a safe method for overseeing menstrual cleanliness and absence of prescription to treat menstrual cycle-related issues or agony likewise limit opportunities for women. They might avoid taking certain positions, or they might be compelled to renounce working hours and wages. Period-related requirements, for example, washroom breaks, might be punished, prompting inconsistent working conditions.
Right to education: Same in the case with girls going to school, because of improper facilities available to them they are forced to not go to schools during their menses. Which again is not fair and equal.
Right to health: It also affects the health of an individual as it is already mentioned above that there are too many serious health problems which are caused by menstruation. It also infringes Article 14 of our Indian Constitution which states "equality before the law".
Right to employment: While period leave awaits consensus and implementation, a March 2020 LocalCircle survey revealed that the new maternity law that mandates six months of paid leave, too, has affected women's hiring opportunities in almost 49 percent of startups or SMEs (small and medium-sized enterprises) in the past year, with nearly 33 percent not hiring women at all.
In 2018, the United Nations (UN) reported that the shame, stigma, and misinformation that surround periods can lead to serious health and human rights concerns. That's why they declared menstrual hygiene an issue that affects public health, gender equality, and human rights.
It's also why the UN has added it to the 2030 Agenda. This is a 15-year plan for sustainable social and economic development that creators believe can help end poverty, hunger, and lack of access to healthcare.
PERIOD POVERTY:
Period poverty describes the struggles of many poor women and girls who face difficulty while affording their menstrual products. At the end of the day, we can say period destitution is an expanded monetary and economic weakness that women and young girls face because of the monetary burden of menstrual supplies. Period poverty is an economic, social as well as political issue. For example, some advocates have called for menstruation products to be exempted from taxes. Such deliberations in India have led to the elimination of tax on menstrual pads and tampons.
We agree that not every girl or woman feels discomfort or physical pain during their menses, but due to the lack of infrastructure facilities, no proper hygienic toilets, etc. acts as an obstacle for an individual to even go out and work during their menses. What's more, admittance to sanitary products remains a significant issue. So something as insignificant as period leave is a major advance forward in eliminating a portion of those hindrances, and may very well guide in bringing issues to light around the inequality that have driven numerous women or girls to experience the pain silently.
COVID AND MENSTRUATION:
In COVID times there were stock-outs and supply chain disruptions which led to the non-availability of menstrual pads, tampons, and other menstrual materials. Quarantined people who have been restricted from being in social gatherings may have restricted access to menstrual products. COVID also brings with it financial stresses on the families who have been unemployed due to the effects of the pandemic which have led to them prioritizing other essential requirements like food or family charges over monthly cycle supplies.
In such times of global crises, it is pertinent to ensure that menstruating people continue to have access to the facilities, products, and information they need to protect their dignity, health, and well-being. Government must assure that at least these essential menstrual health products must remain accessible.
STEPS TAKEN TO END MENSTRUATION TABOO AND OTHER RELATED DISCRIMINATORY PRACTICES
In 2017, Congress Lok Sabha MP Ninong Ering introduced a bill named: "The Menstruation Benefits Bill, 2017". The Bill opines that women employees should be entitled to two days of menstrual leave every month which would amount to 24 days of leave annually.
The Rajasthan High Court in 2018 had deemed premenstrual stress syndrome as an adequate ground to plead the defense of insanity in criminal proceedings.
The Sabarimala temple entry judgment (2019) laid the foundation of ending the notions of " impurity and pollution" relating to menses which were imposing exclusionary disabilities. Here, the 4:1 majority bench held that the temple's practice of not allowing women to enter was unconstitutional in nature as it demolished the true nature of "Equality" enshrined in our constitution.
The Delhi High Court in November 2020 has asked government authorities to take into consideration the PIL seeking direction to grant paid period leave to all women employees for four days each month.
In March 2021, the Gujarat High Court passed an order in public interest litigation, in which it proposed nine guidelines that the state should adopt, preach and follow to end discriminatory practices, unscientific taboos, and myths concerning it. Justice JB Pardiwala observed that this petition is extremely important and he stresses the need to normalize conversations around this topic. Out of the nine proposed points, the key remains the first point. The verbatim of the first point is: "Prohibit social exclusion of women on the basis of their menstrual status at all places." These rules lay guidelines as to the State government's role which includes raising awareness about menstruation.
STRATEGIES TO COMBAT MENSTRUATION RELATED MYTHS:
Local area pioneers, well-being workers, and educators are impeccably placed to discredit menstrual stigma, and guardians and family members should teach and talk about their social customs and notions, which may unexpectedly hurt women and young girls. In any case, to build up practical social change, schooling is vital. All young girls and including men should be instructed about the menstrual cycle and reproductive health to enable them to talk about it serenely and openly about periods and sexual well-being.
We cheer the expanding endeavors worldwide to enable, teach, and connect with country pioneers, different networks, families, and juvenile girls, women, and young men about the monthly cycle, and to spotlight the right of women and young girls to deal with their periods in a more hygienic manner. This will also safeguard the health and well-being of young girls and women. Sanitary vending machines should be installed, which will ensure that each and every person who requires it will have its access. There should be proper law and order to maintain the menstruation problems.
CONCLUSION:
"Menstrual blood is the only source of blood that is not automatically induced. Yet in modern society, this is the most hidden blood, the one so rarely spoken of and almost never seen, except privately by women."
-Judy Grahn
The global experience suggests that granting period leaves is an excellent thought which must be given effect. Most countries of the world have recognized the seriousness of this issue and they also have included norms concerning them. These laws surge the number of women in the workforce. For instance, in Japan which has had a menstrual leave policy since 1947, women comprise 44.5% of the workforce while South Korea also has a menstrual leave policy and women constitute 42.1% of the workforce. Under Article 42 of our Constitution which mandates the state to make provision for securing just and humane conditions of work and also Article 15 (3) authorizes the state to pass laws or special provisions for the benefit of women, these articles portraits State's obligation under the Constitution to do some special steps in the favor of women for their benefit and to bring menstrual equity.
1.
https://www.merriam-webster.com/dictionary/menstruation
2.
https://indianexpress.com/article/lifestyle/life-style/period-leave-india-men-workspace-discrimination-6561189/
3.
https://www.healthline.com/health/facts-statistics-menstruation#Periods-around-the-world